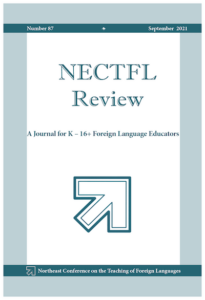 The NECTFL Review publishes articles of interest for instructors, researchers, and administrators at all educational levels on theory, research, policy, and classroom practice in the teaching and learning of language and culture.
The articles deal with pedagogical strategies, materials and curriculum development, language teaching technology, the teaching of literature, assessment, community awareness projects, and international studies. Manuscripts from teachers, researchers, administrators, and teacher educators at all levels, pre-K through university, are encouraged.
Through its articles and reviews, NECTFL provides professional development and services to educators at all salary levels entirely free of charge — by helping teachers grow and learn, we help the schools and communities of our many world language learners!
The NECTFL Review is included in several databases: ERIC, The Modern Language Association Directory of Periodicals, and EBSCOhost service. The NECTFL Review also has an ISSN number from the Library of Congress: ISSN 2164-5957 for our earlier print journals and ISSN 2164-5965 for our online journal.
Full Issues of The NECTFL Review 
NEW (Updated August 27, 2021) Review #87 September 2021 Download
Previous Issues:
For issues dating 1998–2005, please contact us.