Stephen A. Freeman Award for Best Published Article
About the Award
This award is endowed with the interest from a grant by Stephen A. Freeman of Middlebury College. It has been awarded since 1968 at the discretion of the Board of Directors to recognize the best published article on teaching techniques to have appeared in a professional journal during the preceding year.
Click here to make a nomination.
2019 Freeman Award Winner:
Carolina Bustamante, Ph.D., SUNY Old Westbury, NY
Bustamante, C. (2017). TPACK and Teachers of Spanish: Development of a Theory-Based Joint Display in a Mixed Methods Research Case Study. Journal of Mixed Methods Research.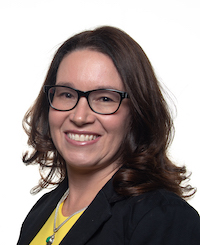 Dr. Bustamante's work has contributed a new methodological approach to examining and representing data specific to the impact of professional development for world language educators. This approach provides robustness and integration of data that increases credibility of the findings and enhances understandings. As professional development is a timeless issue, this work allows for more robust ways to expand what can be known about the design and sustainability of professional development through a mixed-method approach that builds trustworthiness in the results. This piece was built on a strong scholarly foundation that focuses on theory and research, with well-articulated research questions that guide and reveal the research design. Finally, this work is particularly well written and approachable for world language educators and those facilitating professional development in the field. There is a high level of clarity of meaning throughout the entire work, demonstrated by defining every term, through logical sequencing and organization of ideas, and through contextualization, making complex content accessible to all readers.
Past Winners
2018: Francis J. Troyan, Ph.D., The Ohio State University, Columbus, OH; Laurent Cammarata, Ph.D., Faculté Saint-Jean, University of Alberta, Canada; Jason Martel, Ph.D., Middlebury Institute of International Studies at Monterey, Monterey, CA, for their article "Integration PCK: Modeling the Knowledge(s) Underlying a World Language Teacher's Implementation of CBI", Foreign Language Annals, Volume 50, Issue 2, Summer 2017, pp. 458–476
2017: Tony Houston, Bryant University, for his article "Managing Depth and Breadth in the Business Spanish Course," published in Hispania, Volume 98, Number 4 in December 2015
2016: Mary Caitlyn Wight, SUNY Geneseo for her article in the Foreign Language Annals, vol. 48, issue 1 entitled "Students with Learning Disabilities in the Foreign Language Learning Environment and the Practice of Exemption"
2015: Cynthia Chalupa and Heiko ter Haseborg, West Virginia University, for their contribution to the NECTFL Review 74 entitled "Improving Student Motivation through Autonomous Learning Choices"
2014: Maximilian Aue (posthumous award), Peter Hoeyng, Marianne K. Lancaster, Hiram H. Maxim and Caroline Schaumann, all of Emory University, for their article "Overcoming Curricular Bifurcation: A Departmental Approach to Curricular Reform," Die Unterrichtspraxis/Teaching German 46, 1 (spring 2013)
2011: Lina Lee, University of New Hampshire
2009: Jason J. Goulah, DePaul University
2008: Bonnie Adair-Hauck, University of Pittsburgh; Eileen W. Glisan, Indiana University of Pennsylvania; Keiko Koda, Carnegie Mellon University; Elvira Swender, ACTFL; S. Paul Sandrock, Wisconsin Dept. of Public Instruction
2007: Teresa Pica, University of Pennsylvania
2006: N. Ann Chenoweth, University of Texas – Pan American, & Kimmaree Murday, Indiana University – Purdue University
2005: Wynne Wong, Ohio State University, & Bill VanPatten, University of Illinois at Chicago
2004: Bonnie Adair-Hauck, University of PittsburghRichard Donato,University of Pittsburgh
2003: Terry A. Osborn, University of Connecticut
2002: Linda Quinn Allen, Iowa State University
2001: Anita Vogely, SUNY Binghamton
1999: Olenka Bilash, University of Alberta
1998: Elizabeth Knutson, U. S. Naval Academy
1991: Marva Barnett,  University of Virginia
1990: Robert Terry, University of Richmond
1989: Jay Siskin, Northwestern University; Emily Spinelli, University of Michigan at Dearborn
1986: Charlotte Cole, Floy Miller,Walpole (MA) High School
1985: Walter Blue, Donald Rice, Tamara Root, Hamline University
1984: Renate A. Schulz, University of Arizona
1983: Heidi Byrnes, Stefan Fink, Aureila Roman,Georgetown University
1982: Claire Kramsch, Massachusetts Institute of Technology
1981: James M. Hendrickson, Lansing Community College
1979: Diane W. Birckbichler, Ohio State University; Alice C. Omaggio, ERIC Clearinghouse on Languages & Linguistics
1978: I.S.P. Nation, Victoria University
1977: Christina Bratt Paulston, Howard R. Selekman
1975: Thomas P. Carter, Dalhousie University
1974: Robert J. Elkins, Theodore B.Kalivoda, Genelle Morain,University of Georgia
1973: H. Ned Seelye, J. Lawrence Day
1971: Michael Agatstein, Wheatley School
1970: Frank Otto, Ohio State University
1969: Sidney R. Smith, University of North Carolina