The Nelson H. Brooks Award for Outstanding Leadership in the Profession
About the Award
The Nelson H. Brooks Leadership Award honors a passionate leader who has made significant contributions to the world language community layered from the local, state, regional and/or national levels. Applicants' dossiers include evidence of their dedication, influence, and collaboration in service to language learning, language learners, and language educators.The Northeast Conference Board of Directors has honored a member of the profession for distinguished service and leadership since 1968. In 1978 the award was renamed in honor of Nelson H. Brooks, who, through his work and publications about the importance of culture in the world language classroom, dramatically influenced second language instruction.
Click here to make a nomination.
The 2021 Brooks Award Winner: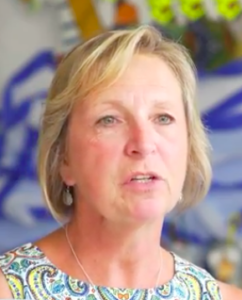 Rita A. Oleksak
Rita A. Oleksak has been the Director of World Languages/ELL for the Glastonbury Public Schools for 16 years where they recently celebrated more than 60 years of teaching Russian. In 2017 Glastonbury received the ACTFL Melba D. Woodruff award for excellence in elementary world language programming which coincided with a celebration of 60 years of elementary Spanish in the district. Rita oversees a staff of 60 world language teachers and ELL tutors and is responsible for hiring and direct supervision. Her work focuses on building target language proficiency across the modes of communication in a grade 1-12 thematically focused program. The backwards design model incorporates Essential Questions throughout an articulated and sequential program. In 2009, Glastonbury was named one of the first 20 Confucius Classroom cohorts. Glastonbury has been funded for fourteen STARTALK summer programs including Arabic, Chinese and Russian for teacher trainees and students. Rita has served on various STARTALK Task Forces and has been a site visitor. She recently completed her term as president of JNCL-NCLIS, the national lobbying organization for the Language Enterprise. Additionally, Rita recently completed a two year term serving on the new Committee for K-16 Academic Alliances for the Modern Language Association (MLA). She is past president of the National Network for Early Language Learning (NNELL) as well as The National Association of District Supervisors of Foreign Languages (NADSFL) and The American Council on the Teaching of Foreign Languages (ACTFL). As president of ACTFL, Rita had the honor of addressing a Senate Sub Committee to present ten legislative priorities for language learning in the United States. She is also past president of the Massachusetts Foreign Language Association (MaFLA) and former co-chair of the K-16 Foreign Language Teachers of Western Massachusetts Collaborative. She served as one of the original organizing partners of the LILL Leadership Team and continues to work in the area of mentorship.. Rita received the Massachusetts Distinguished Service award in 2010 and CTCOLT Pegasus Pride award in 2011. In 2013, Rita was awarded the NADSFL – Pearson Supervisor of the Year Award and in 2015, she received the ACTFL Florence Steiner Award for Leadership in Foreign Language Education K-12.
Past Winners
2020: Amanda Seewald
2019: Sr. Mary Helen Kashuba, SSJ, DLM, Chestnut Hill College
2018: Janis Hennessey, Dover HS, Retired
2017: Thekla Fall, Pittsburgh Public Schools, Retired
2016: Laura Franklin, Northern Virginia Community College
2015: Charlotte E. Gifford, Greenfield Community College
2014: Gladys Lipton, National FLES Institute
2013: Heidi Byrnes, Georgetown University
2012: Richard Brecht, Center for Advanced Study of Language
2011: Gregory Duncan, InterPrep, Inc.
2009: Marjorie Hall Haley, George Mason University
2008: Eileen W. Glisan, Indiana University of Pennsylvania
2007: Stephen L. Levy, ACTFL
2006: Kathleen M. Riordan, Springfield MA Public Schools (ret.)
2005: Ray T. Clifford, Brigham Young University
2004: Martha G. Abbott, Fairfax County (VA) Public Schools
2003: Frank W. Medley, Jr., West Virginia University
2002: Robert J. Ludwig, NYSAFLT
2001: C. Edward Scebold, ACTFL
2000: Protase E. Woodford, Educational Testing Service (ret.)
1999: June K. Phillips, Weber State University
1998: Helene Zimmer-Loew, AATG
1997: Ronald Walton, National Foreign Language Center (posthumous)
1996: Edward D. Allen, Emeritus, Ohio State University
1995: Earl W. Stevick, Emeritus, Foreign Service Institute
1994: Eleanor Jorden, Emerita, Cornell University
1993: Dorothy James, Hunter College
1992: Sandye Jean McIntyre II, Morgan State University
1991: Helen Warriner-Burke, Virginia State Dept. of Education
1990: Ann Beusch, Maryland State Dept. of Education
1989: Dora Kennedy, Prince George's County (MD) Public Schools
1988: Leo Benardo, New York City Public Schools
1987: Mary P. Thompson, Glastonbury Public Schools
1986: Robert Lado, Georgetown University
1985: James E. Alatis, Georgetown University
1984: Wilga M. Rivers, Harvard University
1983: James R. Frith, Foreign Service Institute
1982: Lorraine A. Strasheim, Indiana University
1981: Laurence Wylie, Harvard University
1980: Richard I. Brod, Modern Language Association
1979: Dwight Bolinger, Harvard University
1978: Howard Lee Nostrand, University of Washington
1977: Kenneth W. Mildenberger, Modern Language Association
1976: Wilmarth H. Starr, New York University
1975: Theodore Andersson, University of Texas
1974: Donald D. Walsh, Northeast Conference
1973: Emma Birkmaier, University of Minnesota
1972: Freeman Twadell, Brown University
1971: Robert G. Mead, University of Connecticut
1970: Harry L. Levy, Fordham University
1969: Nelson H. Brooks, Yale University
1968: Stephen A. Freeman, Middlebury College