The James W. Dodge Foreign Language Advocate Award
About the Award
The Foreign Language Advocate Award is presented to honor an individual outside the profession for recognition of work on behalf of languages. Since 1990, this award has been presented in memory of James W. Dodge, who served as Secretary-Treasurer of the Northeast Conference for nearly twenty years.
Download the Nomination Packet
The 2017 Dodge Award Winner: Carnegie Library of Pittsburgh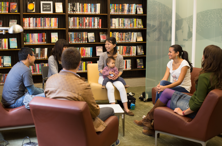 The Carnegie Library of Pittsburgh was nominated by PSMLA because it has become a language-learning destination in southwestern Pennsylvania.  Carnegie Library's flagship program, Let's Speak English, provides an easy-going environment for participants to strengthen their English skills, connect to resources available and become part of a community. Many of these ESL participants have volunteered their time to teach Arabic, Chinese, French, German, Italian, Japanese, Korean, Russian and Spanish classes.   The robust and free foreign language program that has stemmed from this ESL program is unique in that it is free and open to everyone in the region.  The library's language classes have impacted more than the volunteers.  Over 4,000 language learners have had the joy of learning, meeting people and forming friendships all through learning languages.
Past Winners
2015: Diane Rehm, The Diane Rehm Show, WAMU
2014: Clay Pell, 2013 Deputy Assistant Secretary of the Office of International and Foreign Language Education, USDOE
2013: Hon. Jack Markell, Governor of Delaware
2012: J. David Edwards, JNCL/NCLIS
2010: J.W. "Bill" Marriott, Marriott International
2009: Luma Mufleh, Fugees Family
2007: Hon. Paul S. Sarbanes, Senator from Maryland
2006: Taj Mahal and Carole Fredericks, (posthumous award)
2005: Hon. Rush Holt, Congressional Representative from New Jersey
2004: Brenda Lilienthal Welburn, Executive Director, National Association of State Boards of Education
2003: Ann M. Copland, Senior Executive and Legislative Assistant, Senator Thad Cochran (R-MS)
2002: Barbara Turlington, American Council on Education
2001: L. Jay Oliva,President, New York University
2000: Hon. Richard Riley, former Governor of South Carolina, Secretary of Education, U. S. Dept. of Ed.
1999: Sesame Street, Children's Television Workshop
1998: Ken O'Keefe, Allegheny College
1997: Robert Orrill, The College Board
1996: Hon. David L. Boren, former Senator from Oklahoma; President, University of Oklahoma
1995: Hon. Madeleine May Kunin,former Governor of Vermont, Deputy Secretary of Education
1994: James Crawford, author and editor
1993: James Herbert, National Endowment for the Humanities
1992: Hon. Lois G. Pines, State Senator for Middlesex and Norfolk District, Massachusetts
1991: Scott McVay, Executive Director, Geraldine R. Dodge Foundation
1990: Leonard A. Lauder, President and CEO, Estée Lauder, Inc.
1989: The Southern Governors Conference
1988: Hon. Claiborne Pell, Senator from Rhode Island
1987: Hon. J. William Fulbright, former Senator from Arkansas
1986: Hon. Christopher J. Dodd, Senator from Connecticut
1985: Sylvia Porter, nationally syndicated columnist
1983: Hon. Leon E. Panetta, Congressional Representative from California
1980: Fred M. Hechinger, The New York Times Foundation
1979: President Jimmy Carter
1978: Hon. Paul Simon, Congressional Representative from Illinois