The NECTFL Review publishes articles of interest for instructors, researchers and administrators at all educational levels on theory, research, policy and classroom practice in the teaching and learning of language and culture.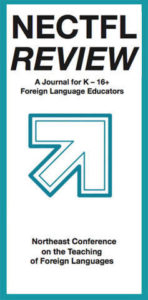 The articles deal with pedagogical strategies, materials and curriculum development, language teaching technology, the teaching of literature, assessment, community awareness projects and international studies. Manuscripts from teachers, researchers, administrators and teacher educators at all levels, pre-K through university are encouraged.
Through its articles and reviews, NECTFL provides professional development and services to educators at all salary levels entirely free of charge — by helping teachers grow and learn, we help the schools and communities of our many world language learners!
Note: Beginning in 2018, issues will appear in March and September.
Full Issues of The NECTFL Review
Special Issue: Strengthening World Language Education: Standard for Success December 2017 Download
NEW (Updated 9.6.17) Review #80 September 2017 Download
Special Issue: Intercultural Competence Through World Languages February 2017 Download
Previous Issues:
For issues dating 1998–2005, please contact us.